OG Sport Rack 5th GEN 4Runner KAYAK/SUP/Bike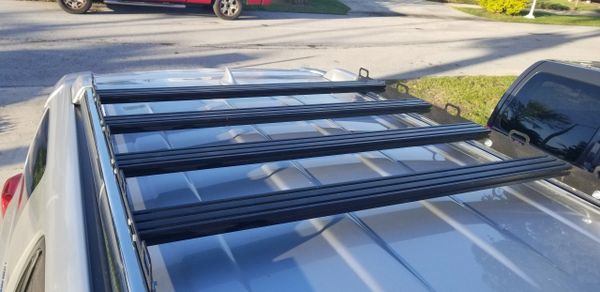 OG Sport Rack 5th GEN 4Runner KAYAK/SUP/Bike
The OG Sport rack is perfect for the recreational outfitter who likes to go kayaking, biking or paddle boarding.  The system consists of two brackets that bolt on to your existing factory rack.  The brackets have 5 tie down points build into them which allow you to easily secure your gear using basic ratchet straps.  The brackets also have provisions for mounting aluminum cross bars.  The brackets place the brackets 2 inches above the rook which allow you to mount mountain bike and kayak racks such as a Yakima etc.   The flat cross bars are excellent for holding your SUP paddle boards and they can be easily secured using straps.
The rack system is also excellent for home depot runs.
The cross bars have tracks built into them which allow you to slide nuts in them.  This allows you to mount light bars (look at pic with cargo, you can see the light bar facing backwards) and other accessories to the cross bars.
INSTALLATION:
Mount the brackets using the special bolts.  The bolts slide into the tracks on the factory rack.  Rotate the bolt 1/4 turn.  The bolt has a notch on the end to show when its 1/4 turn.  Before tightening all the 8 bolts, make sure the brackets are slid all the way back.
Install the cross bars using the small screws.  Do not over tighten them.
Install should take about 15 minutes.