OG 3Gen Tacoma Center Console Molle Board (Pair)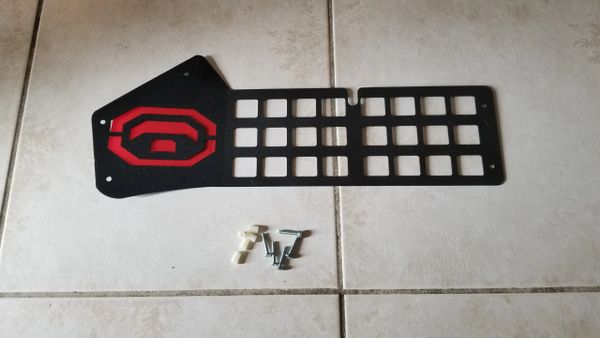 OG 3Gen Tacoma Center Console Molle Board (Pair)
Please contact us for current lead time. We apologize we can't compete with Amazon Prime! THESE ARE MADE TO ORDER BY A TEAM OF 5; 3 OF US ARE DOGS. We appreciate your patience and business!
Our OG Fab Center Console Molle Board comes with 2 panels: one for the front passenger and on for the driver's side.
For custom art work:
PLEASE GIVE US SOME TIME TO DRAW OUT YOUR PIECES, WE WILL EMAIL YOU PIX OF YOUR CUSTOM PIECE TO SEE IF YOU LIKE IT BEFORE WE MAKE IT. THE 3GEN IS A LARGE PIECE AND IS BENT ON A BRAKE. SOME OF THE PIX SHOWN HERE ARE OF A 2GEN JUST SO YOU CAN SEE SOME OF OUR ART WORK. THE ONE WITH A CB IS A 3GEN!
Our OG Center Console Molle Board is an excellent piece to keep your gear close. It's designed to hold cell phones, pens, multi-tools, flashlights, weapons, pouches etc. via molle straps or clips. The unit is also designed to hold a sidearm via a holster with clip or magnetic mount.
The price shown above is for a plain unit with no art work on it. Custom art is an additional $10. If you want something custom contact us first. A custom piece starts at $115, which includes editing/drawing your pictures and inputting them into a CAD file.
INSTALL:
PLACE BOARD AGAINST PLASTIC AND TAPE IN PLACE IF NEED BE. WITH A SHARPIE MARK THE HOLES. DRILL WITH A 1/8" BIT, DRIVE SCREWS INTO HOLES,
DO NOT OVER TIGHTEN OR YOU WILL PULL OUT THE THREADS.
INSTALL SCREW OVER PANEL, INSTALL SPACER AND INSTALL. MOUNT THE UNIT SO THAT IT HAS A FLOOR TO IT THAT WAY YOUR CEL WONT FALL FROM THE BOTTOM!