OG Overhead Molle Panel 3gen Tacoma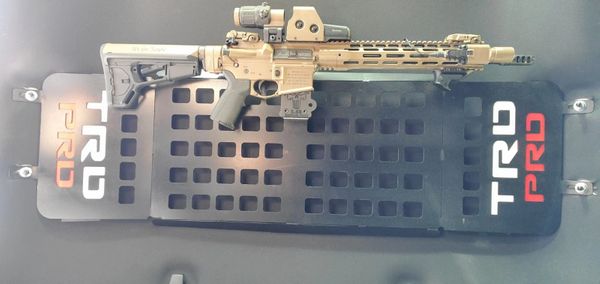 OG Overhead Molle Panel 3gen Tacoma
Please read the full description for tips.
NOT FOR SUNROOF
Instruction video below.

This is for the 3gen crew cab 4door Tacoma.  The unit allows you to mount magnetic items such as flash lights, tire pressure gauges, knives etc.  You are also able to mount molle pouches or rifles etc.  The item is very ridged. The unit comes standard with a bedliner paint.   You can use construction paper to make your custom/TRD etc art work pop out.  Just tape paper behind the letters.

We can add a TRD logo, Punisher, Spartan or plain on one end, we can also do a custom design for a few dollars more just contact us and let us know to see if we can do it. 

Mountain bike setup is on a Tundra.
For long rifles as shown in the pic above, we recommend our MAGA-Zine mount. It allows the rifle to hang off the panel.

We are a part time show , please allow us some time to make your item.
Does not fit on sunroof models.

Instructions: https://youtu.be/Y0V0G_DDdIM

Thanks