Ford Ranger Command Center molle panel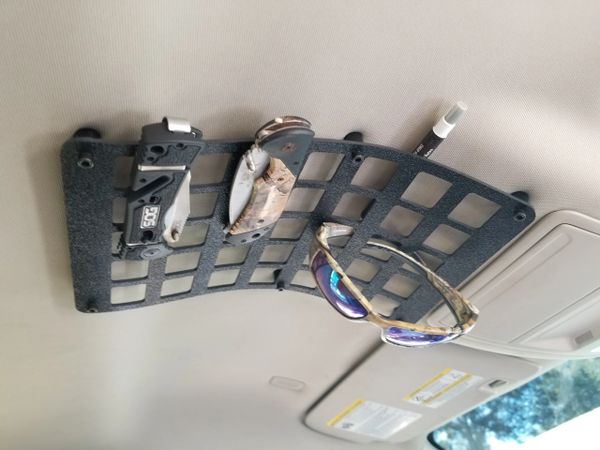 Ford Ranger Command Center molle panel
CUSTOM COMMAND CENTERS AVAILABLE WITH CUT OUTS FOR SWITCHES AND USB CHARGER. EMAIL FOR MORE INFO
The Command Center is a molle panel that can hold your gear and molle bags. It's good for about 5lbs. 
30min Install:
Remove the visors by gaining access to the torx screws by prying the plastic off.  Remove the map light assembly  by prying on the panel, disconnect plug and set light assembly aside. This will expose a black panel that's secured via two torx screws. Once the screws are removed, detach plastic from the headliner . You now have access to the top of the head liner.
Place command center against headliner and mark the holes with a sharpie.  Drill the head liner, install command center, spacers, screws, washers and nut.  Make sure the washer is inside the head liner.
TIPS: Remove foam block in head liner to gain access to screw area
Remove one of the A pillar plastic trim to pull the head liner down easier.
30 Min install