OG Jeep Wrangler Center Console Molle Panel (Pair)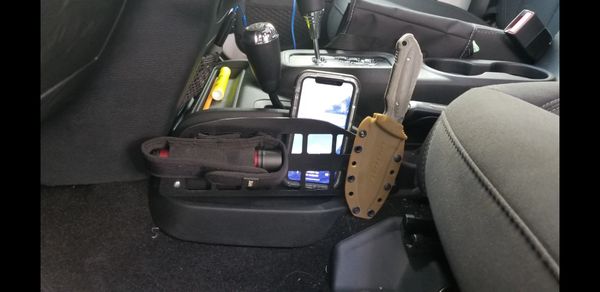 OG Jeep Wrangler Center Console Molle Panel (Pair)
All items are made to order. Feel free to contact us for current lead times. Patience is appreciated as we cannot compete with Amazon Prime!
I designed this Panel on a 2018 Wrangler. A 2010 shifter area is different. Verify that your Wrangler shifter area looks the same as the pictures above before you order please.

Our OG Center Console Molle Panel package comes with 2 panels, one for the driver side and one for the front passenger side. The panels secure knives, flashlights, pens, cel phones, guns, etc. within fast and easy reach. The panels feature holes which allow you to mount molle strap pouches. They also come with a built-in notch for mounting your CB mic. The Renegade model the last photo features the mic notch.

To install:
Drill 1/8" holes and install the screws. The screws will tap themselves in and provide a secure mount. Do not over tighten.