OG Fab 5th Gen 4Runner cargo ceiling molle rack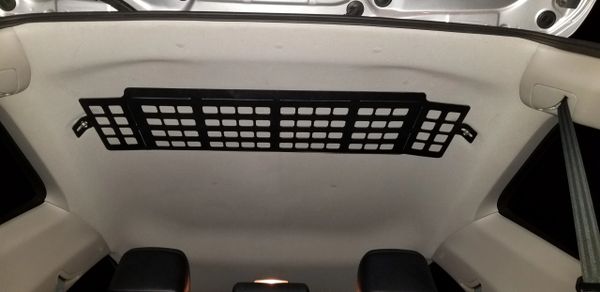 OG Fab 5th Gen 4Runner cargo ceiling molle rack
The OG ceiling molle rack is used to hold gear for hunting, camping, fishing, mountain biking, recovery straps etc.  The rack is made out of steel which allows you to mount magnetic items such as lights, pressure gauges etc.  You can view the Tundra/Tacoma one with gear mounted on it.

The unit is shipped flat with the exceptions of the front and back long tabs which add rigidity.  You will need to bend the tabs at the ends and bend the "wings" (what the tabs are attached to) as needed to fit.
Depending on how you mount it, the unit may touch the head liner.  If you want to protect your head liner, you can install door edge trim on the endes.  Its less than $5 for a set at the parts store.  Its that trim that people place on their doors edge so they don't scratch another car when they open the door.  If you notice in the picture, the mounting tabs are not centered on the panel.  Mount the panel so that the panel sits more towards the front vs the back.

This is a side business so please give me a bit to make these and ship them out to you.
Thanks for the support!!