3Gen Tacoma OG Command Center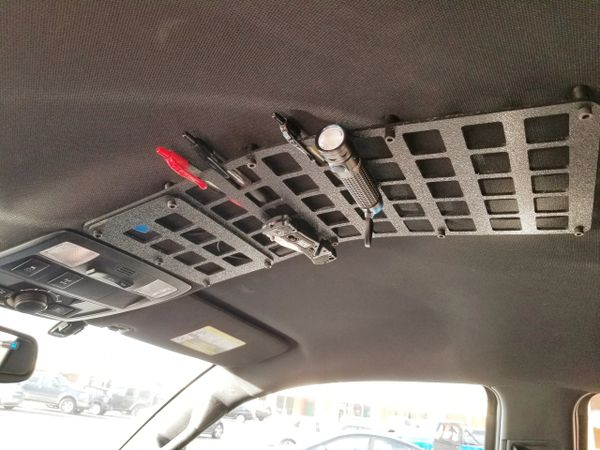 3Gen Tacoma OG Command Center
ANOTHER OG ORIGINAL!
The OG Command center is a permanent install modular overhead molle rack system.  It comes with the main molle panel panel as well as a smaller molle panel which can be swapped out for the command center portion. The last picture shows a command center prototype which replaces the removable molle panel in the 4th pic.

The Command Center is able to hold 3-5 lbs of gear.  That's enough to hold a flashlight, some knives, a hand held radio, sunglasses and pens.  As master Yoda once said, "be mindful of your thoughts."  Meaning if you are doing baja with your truck with the throttle balls to the wall jumping, don't go loading it up to much.

NOTE: MOST OF OUR ITEMS ARE STEEL, THESE HOWEVER ARE NOT BECAUSE WE WANT SOMETHING LIGHT WEIGHT AND BECAUSE THE PLASTIC CAN FIT THE CONTOUR OF THE CEILING EASY VS THE STEEL.

INSTALL:
1. Remove the front map light by pulling on the corner till it pops out.
2. Remove dome light via a flat head by pulling down on the corner till it pops out.
3. Place the command center main panel against the headliner. With a sharpie pick up the holes.
4. Open the holes via an ice pick or with a drill. Make sure you dont drill into the roof of the vehicle!  It doesnt take much effort to penetrate the head liner.
5. Working from the front back, install screws and spacers from the bottom, from the top install the fender washer and nut.  Work your way back.
If you install a light switch etc, you can remove the front spacers so that the panel sits flush and is not spaced out like the rear screws are.
TIPS:
1. There are 2 metal tabs behind the map lights, you can push them back, this will provide you with more hand clearance to get to the hardware.  2. You can use some contact rubber cement to place on your finger.  Once tacky, you can put a nut on it and feed it to the screws. This helps prevent you from dropping the nuts. 3. If you want to mount a CB Radio, you can drill through the metal tabs which were bent to support extra weight towards the front.