OG Tacoma backseat GoBoard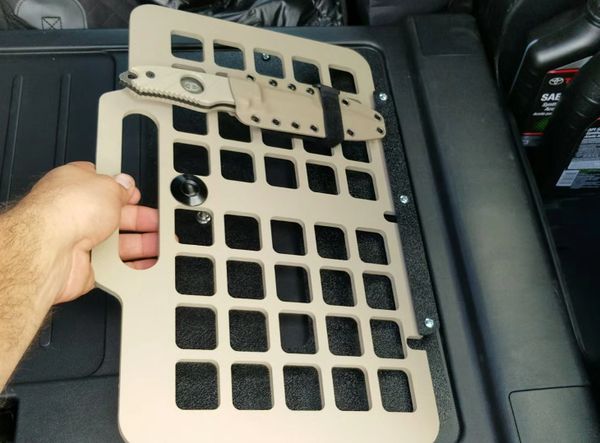 OG Tacoma backseat GoBoard
Instructions below. 10min install.
The OG  GoBoard was designed to take your essential gear with you such as a medic kit, tools, mountain biking gear, magazines and sidearm etc. Pair it up with our other back seat panel for the passenger side. Video shows how its installed and removed:

The back panel screws behind the rear seat back.  The GoBoard secures to the back panel.  Some people keep the panel as part of their bug out gear, keeping the panel in their closet etc and taking it with them when they travel.
NOTE: The GoBoard comes in black!  The panel is textured so it takes paint very well.  Shown above is a sand color.  Sand the back of the GoBoard if you plan on painting being that its not textured.

To install, move the panel, lower your seat so that it sits horizontal. Tape the panel in place then drill with a 1/8" drill bit using the panel as a guide.  Force the screws into the plastic, it will create threads. Do not over tighten!  Push the stem down hard so it marks the plastic.  Remove panel and make a hole large enough for the nut to recess into the plastic.  Now install the black panel and install all the screws.  Install the last three lower screws last.  Install them with the spacers and the cross plate.   10min install.