OGFab 5th Gen Toyota 4Runner Center Console Molle Panel (Pair)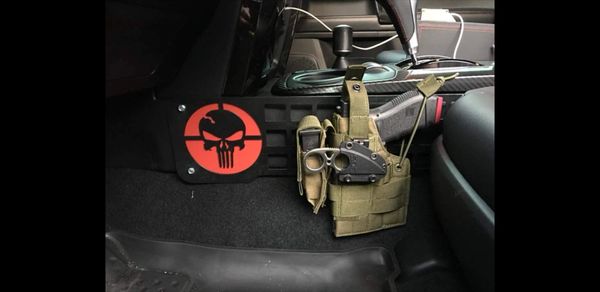 OGFab 5th Gen Toyota 4Runner Center Console Molle Panel (Pair)
PLEASE ALLOW SOME TIME FOR YOUR ITEM TO BE MADE TO ORDER. WE CAN'T COMPETE WITH AMAZON PRIME. Feel free to contact us for current lead time!
The OG Fab center console molle panel holds your molle pouches, cell phone, Leatherman, knife, gun, etc.  The 4Runner has limited space on the shifter console, but our OG Center Console Molle Panel solves that problem.
Shipment Includes:
OG Fab driver and passenger center console molle panels

Hardware

Spacers

Install:
Lay out panel against the plastic.  Push the panel and with a sharpie mark the screw holes on the molle panel.  Now drill into the holes using a 1/8" drill bit.  Force the supplied screws into the hole, it will tap itself in.   Now install the panel and the supplied spacers.  The spacers will shim the panel 1/2" to allow the molle straps to be sewn through.
NOTE: DO NOT OVER TIGHTEN the screws or you will pull out the threads.  The panel will easily hold 5 lbs.