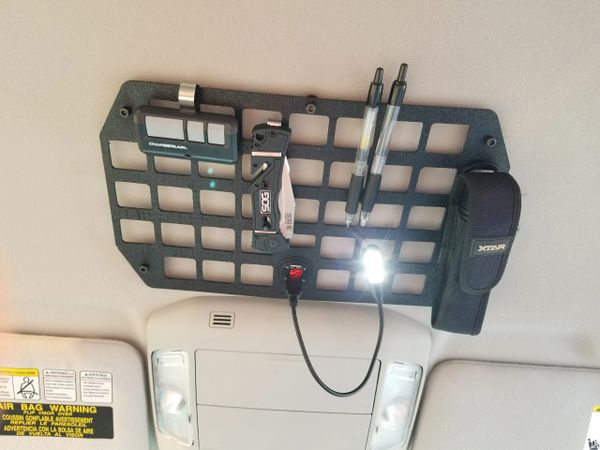 Tundra Command Center
The OG Command center for the Tundra allows you to install your essential items such as your cel phone, glasses, pens, garage door opener etc.
The command center comes predrilled with a 1.15" hole to accept a USB charger (NOT INCLUDED). 
Search amazon for " quick charge 3.0 USB Charger Socket Dual USB car power outlet" and you'll see various chargers come up.  Wire into your dome light ,map light or any accessory circuit.  Preferably one that shuts off when the key is removed.
Search Amazon for "USB Gooseneck Light " if you want a movable map light for the plug.
Install:
Place the panel on the headliner.  Make sure that it sits a minimum of 1/4" away from the factory sunglass holder/map light console.  With a sharpie transfer holes to the head liner including the USB if you plan on installing one.

Use a torx bit to remove the four screws for the sunglass/map light assembly.  Install the command center panel with the spacers and hardware. 
TIPS:  There is a block of foam in the liner, remove to gain access to the back of the screws.  You can pull the head liner down some, the map light assembly will secure it back up with installed.